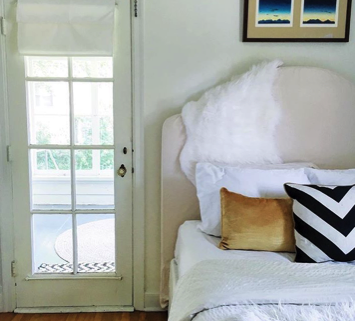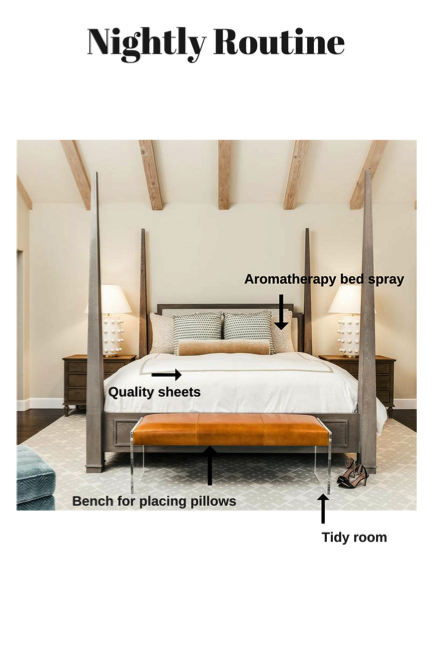 By now you've probably heard of the major benefits of establishing a morning routine, which has been well documented (including here and here). I have to admit, though, that I can't get enough of reading about how others utilize their time in the mornings. An awesome smoothie recipe, a cool new work-out class—whatever it is, I'm all about improving and fine tuning those wee hours of the morning. A solid routine can really set the tone for a productive, healthy day—or night. The perks of also adding a night time routine to your day are hard to beat, especially when it means reaping the rewards of a good night's sleep and potentially reducing those pesky under eye circles!
My own routine is, as you may imagine, based around a well-designed bedroom. I like to start by slipping into a pair of comfy PJs, brushing my teeth, and then washing my face (this face soap is SO good for removing make-up, plus it's chock full of probiotics). Next I'll quickly tidy up the room and remove any accent pillows and store them on top of our end-of-bed bench. A bench at the end of a bed is a total necessity for me—not only can it serve as a place to slip on shoes while getting dressed, but it eliminates the annoyance of extra pillows being strewn around the bedroom by acting as a placeholder at night.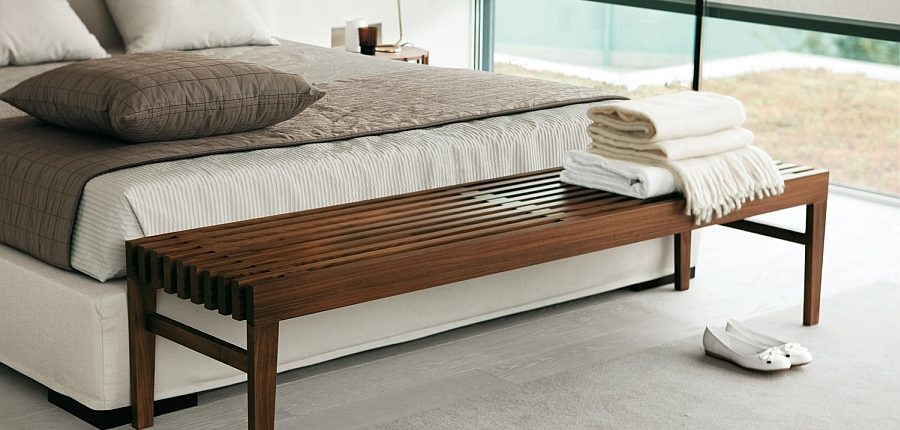 Speaking of pillows, I LOVE them. I mean, really. Accent pillows are so fun and can really finish off the look of a bed set. However, in the bedroom I try to keep them to a minimum not only for my husband's sake but also to simply keep clutter at bay. Typically just a couple of additional pillows will do the trick for making your bedding look complete and will help establish a serene setting that we all need for a good night's rest.
A recent addition to my nightly routine has been to incorporate an aromatherapy spray. My current favorite is this cherry blossom fragrance from the Rituals line. I'll pull back my sheets, add a spritz or two, and my mood is instantly brightened. I highly recommend scenting your sheets if you don't already—lavender is a good choice as well, as it promotes slumber.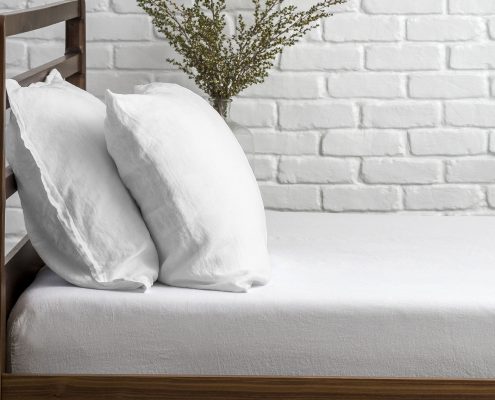 Besides well-fragranced linens, it is also so important to invest in high quality sheets. Have you ever nestled between the linens at a hotel and wondered how they felt so much softer and silkier than at home? I truly had no idea what I was missing until I decided to pull out the stops and upgrade our sheet sets. Luckily for you and I, a number of boutique linen companies have gained traction over the last few years and there are some really great options available. One of my favorites is Parachute; they offer high-quality sheets that are super simple (no crazy prints here!), yet still have a special quality to them. Cultiver has a similar premise and with some beautiful options as well.
To top off my evening routine, I'll put out a paperback book (or maybe just turn on my Kindle…) and read for half an hour before getting some solid, and usually much needed, shut eye.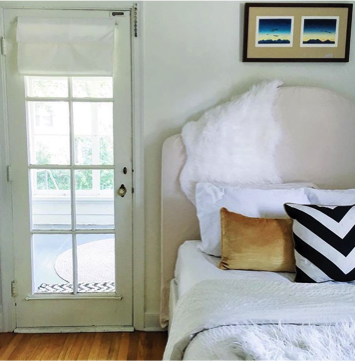 http://tiffanymckinzie.com/wp-content/uploads/2017/07/bedroom.png
361
356
Kelly Pappas
http://tiffanymckinzie.com/wp-content/uploads/2016/05/logo-300x100.png
Kelly Pappas
2017-07-06 15:00:26
2017-07-06 15:17:46
Evening Routine