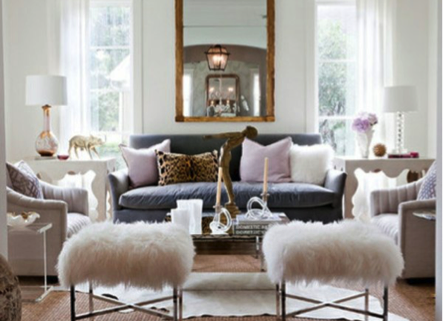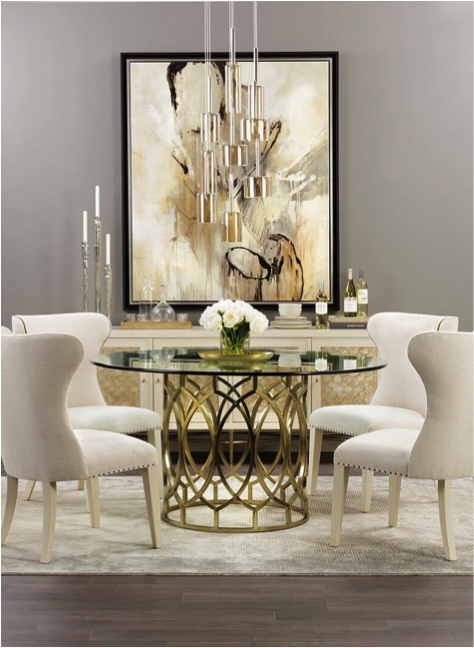 There's no doubt that the minimalism trend is here to stay, but for those who prefer a bit more luxurious look, Modern Glamour may be right up your alley. A favorite among trend-setters, it combines both traditional and trendy pieces means that this look is truly a classic that can be easily updated to fit your mood. Vintage pieces paired with the latest fads makes for a fashion-blogger worthy room that hints of old Hollywood. The only requirement: you can't be afraid of a little faux fur… and a LOT of gold!
To truly optimize that cool-girl luxury look, consider using:
A graphic black and white palette as a foundation to the room, which helps keep a modern edge to this style.
Texture, texture, texture! Preferably something that may remind you of your grandmother's vintage coat, like velvet or fur (and obviously leopard print is always a hit here).
Add a few metallics for a feminine feel. To keep it fresh, feel free to mix your golds and silvers—the old adage that they can't be combined has officially been nixed in 2017, so mix away!
One Kings Lane is a classic go-to for glamorous furniture that won't necessarily break the bank, as noted from the options below. These popular leopard print x-benches can be difficult to find, but this Etsy store will custom make them for you! Upholstered headboards are readily available these days, and are an easy way to add a touch of sophistication while still keeping comfort a top priority. To order up your own version of modern glamour, click on the options below:
http://tiffanymckinzie.com/wp-content/uploads/2017/04/modernglamour2.png
657
443
Kelly Pappas
http://tiffanymckinzie.com/wp-content/uploads/2016/05/logo-300x100.png
Kelly Pappas
2017-04-14 16:37:22
2017-04-14 16:39:06
Style Series: Modern Glamour